Coloured kitchen glass splashbacks for your next renovation.
We offer toughened kitchen glass splashbacks in almost any colour on supply only basis or a complete service with a site survey, supply & install for individual, domestic, contract or commercial glazing projects.
Having state-of- the-art production facilities, combined with ability to offer full site survey, project management and installation services, it's no wonder that we are the preferred partner to some of the biggest property developers, architects & kitchen companies in the UK and Europe.
A glass backsplash in your kitchen is an easy and stylish way to add a new dimension of decor to the room. Kitchen glass splashbacks create more depth, light and feeling of space. With vivid colours and a modern look, you will enjoy your custom coloured glass splashback!
As another option compared to tile, granite, paint or laminates, glass is a low-maintenance option. Glass is easy to clean and maintain, especially when compared to tile — using tile means porous grout lines, attracting dirt and grime. You can opt for a self-cleaning RITEC Clearshield coating on your glass, which helps lower the maintenance needed even further.
We will cut using our state of the art production machines, allowing us to offer almost limitless design possibilities. This means that we can also make cuts to allow for sockets, lighting switches or any other fixture and feature that may need to be worked around.
We use only toughened glass to ensure longevity and durability. All of our glass splashbacks and panels are made using toughened glass. The glass is processed in accordance with the requirements of the relevant British and European quality standards BS EN 12150 : 2000 (Impact Tested BS EN 12600 : 2000) . The glass is also heat resistant up to 400 degrees Celsius. We can match almost any colour, using colour systems like RAL or from a swatch of something that you may have in mind. Our paints are environmentally friendly and moisture resistant. With the durability of the glass and paint combined, a coloured glass splashback is viable for almost any kitchen setup. As an extra design touch, we can add a sandblasted or acid-etched face to the glass.
When you choose MyColourGlass for your next coloured glass product, you can be confident that you are choosing the best. With only the highest quality in glass and products used, the experts at MyColourGlass give you only the best. Our expertise and attention to detail are unequaled. We know you will be satisfied with our work, and we guarantee your satisfaction.
The possibilities with glass splashback kitchen are seemingly endless. The glass splashbacks for your kitchen from MyColourGlass are made with "toughened glass" which is extremely durable and will last for many years to come.
What Kinds of Glass Splashback Kitchen Styles Are There?
You can get toughened glass splashbacks in many styles. Standard pre-cut panels are available, or you can order a custom cut splashback especially tailored to your unique situation and design. All edges are smoothed and polished. We also have wonderful upstands if you would like to employ them in your total kitchen look. Don't hesitate to ask any questions you may have when it comes to the perfect glass splashback for your kitchen. Lets look at a few of the possibilities and choices when it comes to splashbacks at MyColourGlass.
Glass Splashback Kitchen Colours – Our selection of back painted colours for your kitchen splashback is amazing. You can provide us with a colour sample if you so desire, and we can match it for a custom type finish to your splashback. Take a look at the many colours available through the RAL Classic Colour Chart available to help you make a selection. Feel free to chat with one of our colouring specialists if you have any questions and they will help guide you through the selection process. We so this on an almost daily basis and are experts in the field.
Mirrored Glass Splashbacks for Your Kitchen– Many like the looks of mirrors in their kitchen area. We have mirrored splashbacks in different styles, but highly recommend the "Antique" finish when it comes to using mirrors as a splashback. Toughened glass mirrors are very durable and super easy to keep clean. The mirrored look in your kitchen gives a spacious look. You can extend the mirrors to other parts of your kitchen to really optically enlarge it. The mirror can be custom cut in one piece for your splashback so you do not have to be concerned about unsightly seam lines.
Clear Glass or Tinted Glass Kitchen Splashbacks – Clear glass is very good choice for a kitchen splashback as your original wall colour can show through, or wall paper design. Tinted glass splashbacks can also add a touch of class when used in the kitchen decor.
Glass Splashback Kitchen, the Ultimate in Contemporary Design
If you are seeking the best in contemporary design you will definitely want glass work in your kitchen as the countertop, wall cladding, flooring, divider, shelving, and definitely as your splashback. We also do digital printing on glass at MyColourGlass, along with sand blasting to do a "frosted" type look if you so desire. The really cool thing about digital printing on glass is you can get practically any high resolution photo you can come up with directly printed right onto your splashback, or take patterns from other parts of your kitchen to reproduce. The design possibilities, as stated earlier, are immense when it comes to "Glass Splashback Kitchen" as part of your overall interior design.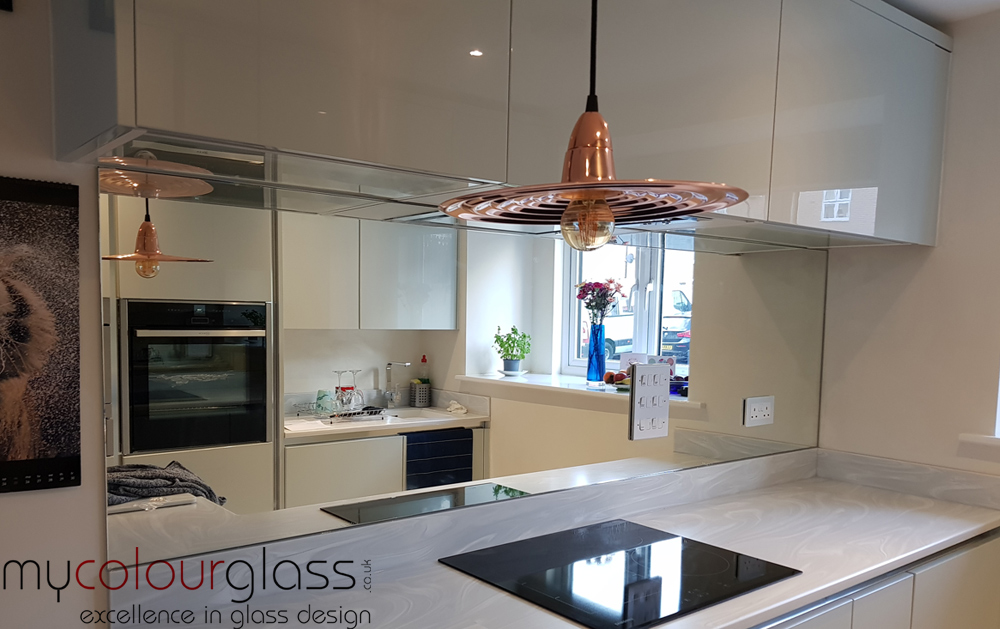 Features:
ANY BESPOKE SIZE & SHAPE

Maximum length of about 3600mm

 6mm toughened glass for splashbacks – BS EN 12150

10mm to 19mm  toughened glass for worktop and other surfaces

 Bonding: Silicone

 The paint coating is moisture resistant

 Infinite Colour Choice

 Free Colour Matching

 Heat resistant to up to 400 degrees Celsius

 Polished edges

 Safety Foil-backed as standard

 Hygienic and easy to clean

 Simplicity that blends into contemporary or traditional interiors

 Available in RAL or any other colour at no extra costs

 Lead time 10-12  working days
Options:
Sandblasted or acid-etched face

Self-cleaning RITEC Clearshield coating
We also offer glass survey & installation services across Greater London and most of South East England and the Home Counties. For commercial projects we cover most of England.
Need a quote for your project?
Request a quote here!