Lift Glass Cladding
Coloured Glass For Your Next Project.
Lift glass cladding can come in a variety of choices, including mirrros or coloured painted glass. A combination of glass cladding looks exceptional. You might have coloured, mirror, or frosted glass insets for a chic presentation.
Quote request
View gallery
Buy now
Where do they find application?
This type of products can find wide application in:
public buildings

business buildings

the design of hotels

modern clinics, even for cosmetic surgery

large retail outlets, etc. 
The possibilities for their production are as great as their application. The glass cladding will not go unnoticed by any visitor – whether in the form of standard glass, colored glass surface, frosted, etc. 
Advantages
Glass cladding can create a remarkable vision of your building. See what are the main advantages:
create an impressive design in each object 

a wide range of variety of colors and type of surface – plain or frosted, choosing the right shade of glass. 

can be well combined with almost any type of floor and ceilings

maintenance is easy and convenient – you only need to wipe with a suitable soft cloth

widely used around elevator spaces – can be lined whole wall, part of it, mirrored ceiling, etc. 
In short, the investment is worth 100%.
Styles of Lift Glass Cladding
Lift glass cladding comes in all of the styles that standard glass cladding comes in. Lets look at a few.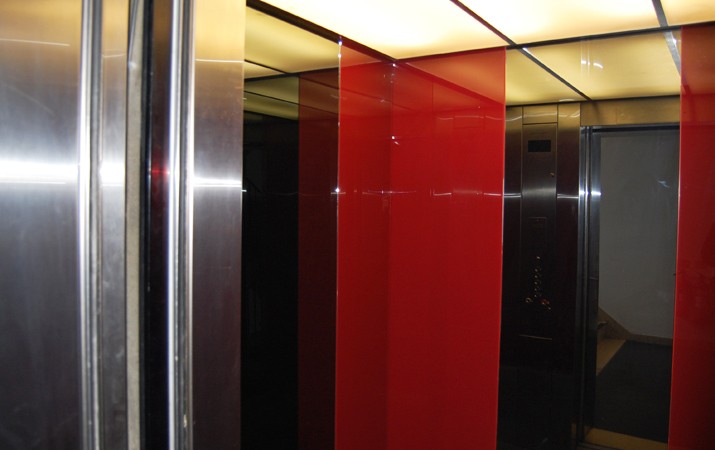 Coloured Glass Cladding– Coloured glass cladding comes back painted in all of the colours presented through the RAL chart accessible on MYColourGlass. We can also especially prepare a colour and match to a sample you provide. Please keep in mind that colours present differently, at times, when viewed with a computer screen. Home printed samples can also have this problem. For the most accurate method in choosing colours, ask for our professionally prepared colour swatches or standard glass samples, when making selections.
Mirrored Glass Cladding– Mirrored glass cladding is nice for a lift, especially when presented on the ceiling or a back interior wall. You can do three sides in mirror with a clear glass door for great looks. Frosted glass looks great on the door area. Ask us about it and the several design options for mirror cladding which include your standard mirroring along with antique mirrors in silver and bronze. Silver antique mirroring as a cladding looks exceptional when incorporated into the glass lift. Tinted grey mirror cladding is also very classy for the glass lift.
Textured Glass Cladding– Frosted glass is the most commonly requested textured glass for cladding in a lift, often presenting as a logo on the entrance. Frosted designs and patterns present well as a surround for the total lift wall cladding. We offer both acid etched glass, and sand blasted as a solution for frosted glass designs, lettering, and patterns.
Clear &Tinted Glass Cladding– Clear glass cladding has always been a popular choice for lifts and fits most any decor. In the contemporary setting, rather it is home or retail areas, a smoked type grey tint to the glass presents well, especially when combined with antique mirror cladding. Bronze glass tinting is also excellent as glass cladding for the lift. The design possibilities are seemingly endless.
Why trust MyColourGlass?
High quality and safe operation of the products – we use only glass, which is characterized by high durability

Easy cleaning and maintenance of our products

Preparation of Lift Glass Cladding according to individual project and design

Free consultation and preparation of an offer

Affordable prices in the ratio "price- quality"

Fast service