Skylights London | Bespoke Glass Rooflights
MyColourGlass offers Skylight Roofing London. Bring the natural lighting from outdoors into your home or business with energy conscious rooflights. Rooflights not only save energy, they are also very beautiful creating the best in contemporary design.
Quote request
View gallery
Buy now
Rooflights are considered "Easy to Install" for your standard building company. They create the frame (upstand) for holding the rooflight. This makes it a number one choice for home improvement requests. Installing a rooflight on or in your structure creates an inviting space which is well lit, and adds an aura of spaciousness. You can either go bespoke or use a standard stocked rooflight. The option and styling in rooflights are seemingly endless. With the advantage of modern technology in architectural glass usage, you can go for practically any size or shape. These also can provide access to upper levels. Rooflights look amazing paired up with glass stairs and balusters. Another amazing thing about rooflights is the fact that you can walk on them. Creativity is the key to a fantastic abode or business using the wonders of architectural glass.
What Is the Difference Between Rooflights, Skylights, and Roof Windows?
You are most likely wondering what the difference is between a rooflight, roof window, and skylight. Aren't they all basically the same? Which one would be best for your home? Are there "Pros" and "Cons"? Lets take a quick look at all three.
Glass Rooflights
Rooflights are installed on an "upstand" or "kerb". A "kerb" is a raised edge such as you see on the edge of a public roadway defining the street. These are also known as "curbs". The pronunciation would be the same. In the Rooflight, the "kerb" or "upstand" is what frames, or defines the perimeter. Skylights are also installed this way, using a "kerb" or "upstand".
Roof windows are considered "frameless". Newer technology has provided us with "frameless rooflights". Check them out. It is all a matter of personal taste and what look you are seeking. The really cool "PRO" regarding rooflights is they are not limited to space usage and size, as is the roof window.
Rooflights can also be used to provide access to an upper level, such as a raised garden terrace, or merely play the role of your common skylight. It is up to you, the styles and options are many. You can really get stylish with the rooflight, and they are the choice for high class architecture and design. If you are planning to have a skylight installed, opt for the rooflight. Even though many consider the common skylight and rooflight as "one-in-the-same", you will find that the rooflight has far more advantages and flexibility.
Skylights
Skylights are very similar to rooflights in many ways. Skylights are actually designed for a "flat" surface. If you are just wanting a smaller type "skylight" on a surface that is inclined, you might want to opt for a "roof window". Get Bespoke Flat Roof Skylights at MyColourGlass.
Roof Windows
Roof windows are usually small and do not require a "kerb" or upstand". Roof windows are not usually considered "bespoke", and only come in standard sizes and shapes.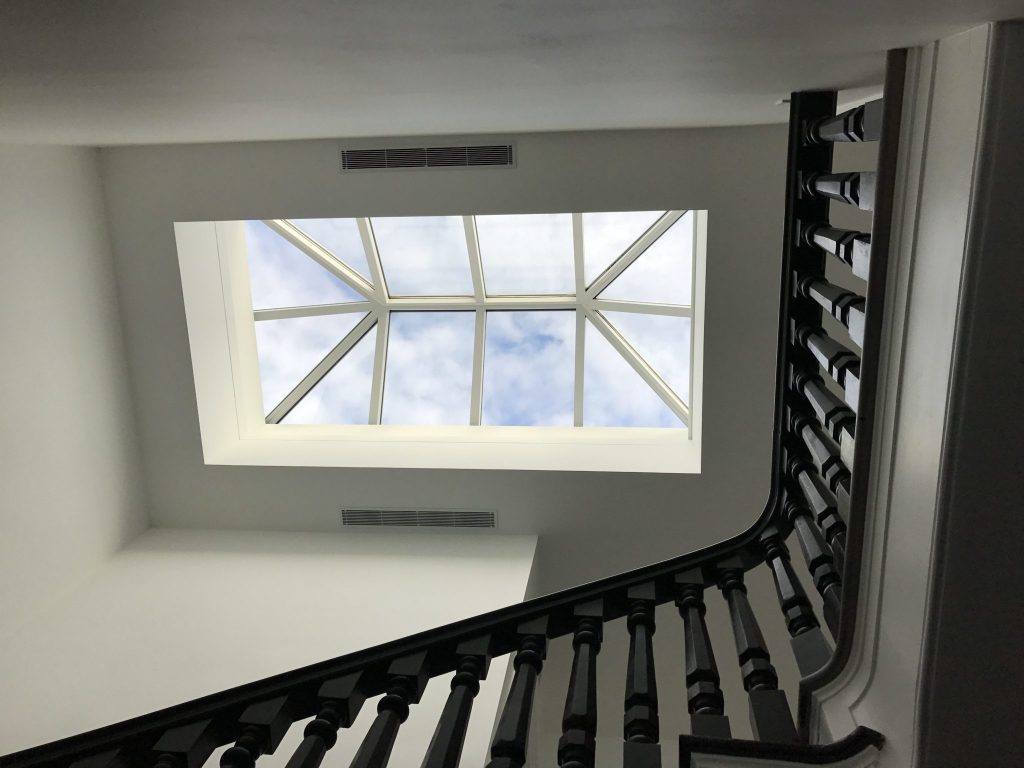 Are Glass Rooflights a Good Investment?
Getting a new rooflight is an exciting venture with very rewarding outcomes, which you will enjoy for many years to come. Rooflights are definitely a good investment.
Why choose a Roof Skylight?
For some it would be strange, while others long to look at the ceiling and see the stars and the moon. The glass surface of the ceiling can provide you with this opportunity. 
The reasons for placing such an innovative solution for home, office or other type of building are many: 
It will provide additional light in the room – many properties "suffer" from enough light, which repels many buyers. Here is a trick that can attract the interest of more people, as well as make a more pleasant place at home. The skylight can be very small in size as well as larger.

you will bring contrast to the interior and you will be "in step with fashion" – this small accent can further break the design of a room

wide application – the investment is worth it, regardless of the room the

glass is reliable and does not endanger the occupants, etc.
Why trust MyColourGlass?
High quality and safe operation of the products

Easy maintenance of our products

Prepared on glass roof windows according to an individual project

Free consultation and preparation of an offer

Affordable prices in the ratio "price-quality"

Fast service
We also offer glass survey & installation services across Greater London and most of South East England and the Home Counties. For commercial projects we cover most of England.